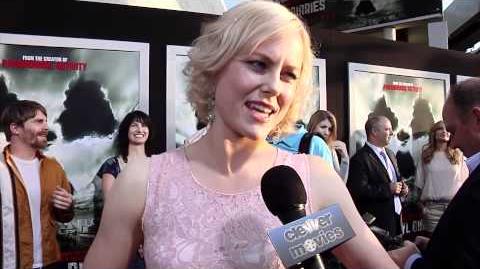 Zoe is a  character in the 2012 horror film Chernobyl Diaries directed Bradley Parker  and is portrayed by norwegian actress Ingrid Bolso Berdal.
Personality And Description
Edit
Zoe is a extreme character who is the 5th to die in the film. Zoe is extremely attracted to Michael (Nathan Phillp) as a love interest. Zoe is from Norway and loves Micchael with a hurt. She decides to go on tour with Michael when she meets the others at Uri's Extreme Travel in Kiev. Zoe is a  great girl who winds up being pulled off a later by mutants while Paul is holding her hand. You can say 2 things Zoe hand slipped from Paul's and she let go to save Paul from coming down with her or the impact from the mutants strength is what dragged her down.
Ad blocker interference detected!
Wikia is a free-to-use site that makes money from advertising. We have a modified experience for viewers using ad blockers

Wikia is not accessible if you've made further modifications. Remove the custom ad blocker rule(s) and the page will load as expected.