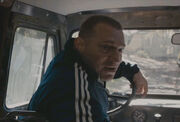 Yuri is one of  the characters in the 2012 movie Chernobyl Diaries and is the 1st to die. He portrayed by Dimitri Diatchenko, He is listed in the end credits as Uri, which is a Hebrew name.
Section heading
Edit
Before working on Chernobyl tours, he worked in the russian special forces. Paul asks about Chernobyl tours and  he accepts it even though he is announced as a tour guide in the movie mainly. He carries a geiger Counter and a gun in the movie and is partially eliminated at the moment his leaves the van when their trapped. He's defensive when he grabs the gun and shouldn't have left the van. Moments later Chris follows who winds up with a somewhat damaged and fractured leg. Yuri is extremely up in front and personal, also works alone. Based off of reviews he's the best character in the movie. Really buff, tough, and tacturn and is reasonable for his actions and is easily distracted by natural things he was found mutilated by an animal or creature and is later seen being eaten by a mutant while Amanda retrieves the gun. You can hear the eating sounds after the mutants arrive and before then his gory is discovered by Amanda, Paul, and Michael.
Ad blocker interference detected!
Wikia is a free-to-use site that makes money from advertising. We have a modified experience for viewers using ad blockers

Wikia is not accessible if you've made further modifications. Remove the custom ad blocker rule(s) and the page will load as expected.