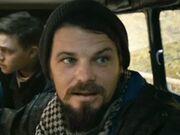 Michael is one of the characters in the 2012 film Chernobyl Diaries and is portrayed by Nathan Phillips he is the 4th to die.
Personality And Description
Edit
Michael is from Australia & is an extremely fragile and protective character and  love interest of Zoe. Michael is seemingly aracted to given situation. He seems critical and does alot any exceptions to te=he way he feels about Zoe. Meanwhile, he speaks more less than the rest and commits things so suddenly he  knows how to use a gun but often misses his target,and eventually puts his life on the line like everyone else and ends of mutilated after he's dragged behind while trying to enter a room with Zoe, Amanda, and Paul. his actual death is not seen amoung the viewers but based off how many bullets are used you already know what's real if you've already seen the movie.