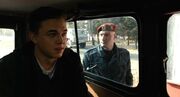 Chris is a character in the 2012 movie Chernobyl Diaries and the 2nd to die. He is portrayed by Jesse McCartney.
Description and Personality
Edit
Chris is an all up up-beat guy who decides to go Chernobyl Tour with his brother Paul (Jonathan Sadowski) when Natalie (Olivia Taylor Dudley) and Amanda (Devin Kelley) decide to go however he decided to meet Paul in Kiev, Ukraine to go to Moscow and eventually tags on tour, after partally refusing to go saying' no' were going to Moscow as we talked about' and completely on the side of common sense while Paul drags them along when they should have went to Moscow instead and Chris ultimate price.
It is unclear possibly either died from infection from his wound or the radioactivity unlike the rest of the characters who are seen dying or found dead the movie leaves you in a scene sense he is not actually found but his ring led Zoe (ingrid Bolso Berdal) to her death . The public, viewers and critics say he died. Some people thought before asking around that he'd be in the sequel sense his death and disappearance is unclear.
Ad blocker interference detected!
Wikia is a free-to-use site that makes money from advertising. We have a modified experience for viewers using ad blockers

Wikia is not accessible if you've made further modifications. Remove the custom ad blocker rule(s) and the page will load as expected.