Chernobyl Diaries is a 2012 american-horror film directed by Bradley Parker and written by Oren Peli, Shane Van Dyke, and Carey Van Dyke. The movie holds a current rating of 5.0 out of 10 stars on imdb.com. It scored 19% on rotten tomatoes and opened at #5 in the box office with around 8 million. The cast includes: Jonathan Sadowski, Jesse McCartney, Devin Kelley, Nathan Phillips, Ingrid Bolso Berdal, Olivia Taylor Dudley, and Dimitri Diatchenku. The stars are Jonathan, Jesse, and Olivia. The movie according some websites received mostly negative reviews mostly the audience blames the director or didn't agree with the plot or the backdrop. Chernobyl Diaries was released on dvd and Blu-ray on October 16, 2012. the blu-ray includes Uri's Extreme Informicial, a deleted scene and alternate ending includes Chernobyl Conspiracy Viral Video.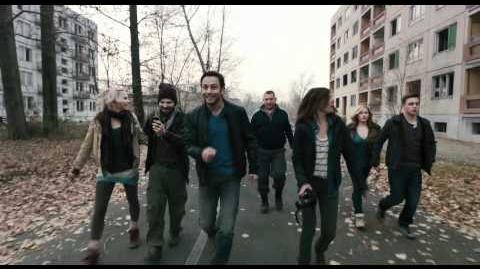 Plot
Six tourists and a  tour guide go on tour of the chernobyl site. But when there forced to stay the night only to realize their not alone.
Rated R for Pervasive Language, Violence, and some Bloody images.
Ad blocker interference detected!
Wikia is a free-to-use site that makes money from advertising. We have a modified experience for viewers using ad blockers

Wikia is not accessible if you've made further modifications. Remove the custom ad blocker rule(s) and the page will load as expected.